Embedder for Confluence, available in Atlassian Marketplace
Insert widgets and access Confluence content anywhere across the web with Embedder app
Switch between ideas, not tabs
With Embedder for Confluence, there's no need to switch to another window to check for documentation, whip out a statistic, or find a report. With a few quick steps, everything can be accessed from Confluence space right where you are.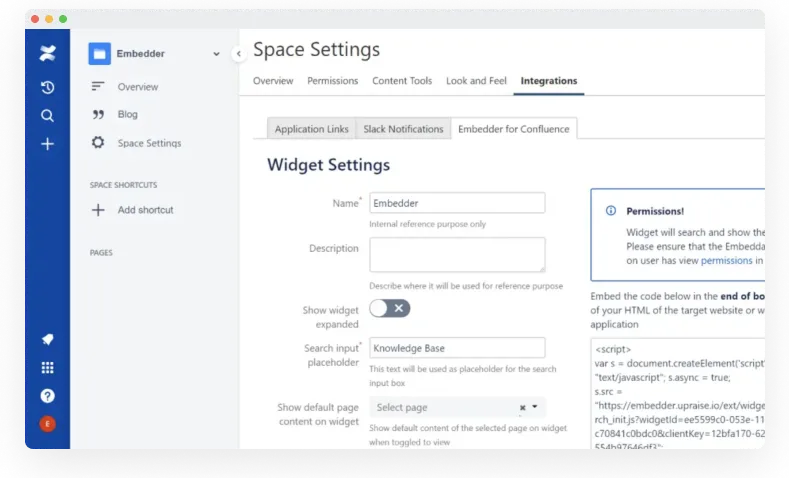 Setup in a snippet
Embedder gives Confluence space admins the ability to generate unique code snippets per space, which can be inserted in any of the webpages across the internet.
Access at fingertips
Embedder makes accessing the confluence documentation a lot quicker. Adding the snippet to a webpage creates a small & non-intrusive web widget that displays the necessary information, right from the Confluence space.
Advanced API
Amplify the understanding of current and potential customers by making the documentation available right within the product. Customise the widget further with advanced javascript APIs.
Embedder is an app exclusively built for the Cloud version of Confluence, we don't plan to extend it for Server or Data Center versions
Confluence Cloud
Embedder seamlessly integrates with your Confluence cloud instance.

Confluence Server
Embedder app does not support Server version of Confluence.

Confluence Data Center
Data Center version does not have a compatible Embedder app.
Pricing
Evals & Purchases Managed via Atlassian Marketplace
Roadmap
How Embedder Can Add More Value for Your Teams
Docs
Thorough & useful knowledge base for you
Support
Reach out to us for lightning quick support