Product Roadmap Tool for Jira, available in Atlassian Marketplace
Build a compelling product roadmap from any Jira Service Desk project, by getting feature requests and feedback from customers.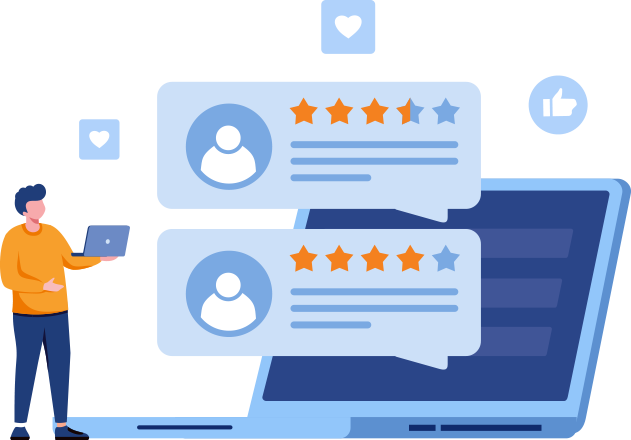 Create a compelling product roadmap for Jira Service Management by capturing customer's feedback, feature requests better and aligning your team to build better products.
Build Your Roadmap To Success
Roadmap portal works on top of your existing Jira Service Desk project with following advantages
| Challenge | Roadmap Portal Advantage | Outcome |
| --- | --- | --- |
| Redundant feature requests | Transparent customer feedback & ability to vote/comment on existing requests | No more wading through feedbacks, efficient customer engagement |
| Scattered product feedback | Centralised customer feedback and requests in your existing tool i.e. JSM | Build a product that actually adds value for your customers & their processes |
| Disorganised customer feedback | Organise the portal the way it solves your problems, no limit on tabs or columns | Easy configuration, feedback structure that makes sense for your audience |
| Time taking roadmap management | With the power of JQL, publish roadmap within minutes & set up native automation | Zoom past the starting line in no time, all in your familiar environment |
No more wading through feedbacks & requests
Roadmap portal helps in managing customer feedback and build a roadmap from one centralised place. Stakeholders can vote on requests and feedback, thereby eliminating duplicates and identifying important ones.
Easy Configurations, easier management
There's no limit to the number of tabs that can be added, and on the number of columns within each of those tabs. Each column, containing appropriate JQL, helps in creating the roadmap portal – which can be go live in a pinch.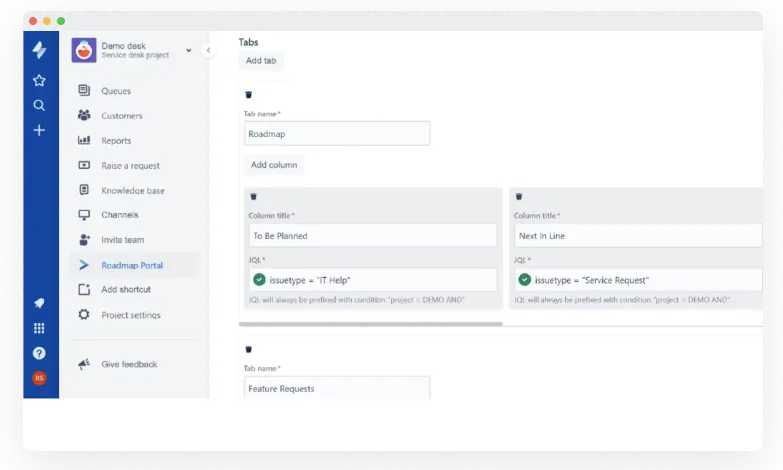 Zoom past the starting line
Publishing a public/private/restricted roadmap for customers & prospects takes just a few minutes, thanks to the power of JQL which makes the roadmap portal dynamic. The features are empowered by the underlying Jira service project.
Eliminate uncertainty with elucidated requests
Acting on customer feedback isn't easy – getting similar requests, same issues reported over and over again, not having enough data on the features to be developed… the whole scenario requires wading through tickers and requests throughout the day. Where is the time for actual development work?
With Roadmap portal, customers get a secure platform to register their requests, in any form they want. They can look at public requests, vote on the issues that are necessary, and create some of their own – either public or private.
With this, the development team gets to see a collated list of customer feedback and requests, minus the duplication and disorganization. The focus will now be solely on creating value, instead of wading through mountains of comments and requests that can take hours to decipher.
We've built Roadmap Portal exclusively for the Cloud version of Jira Service Management (formerly Jira Service Desk)
JSM Cloud
Roadmap Portal works seamlessly with your JSM Cloud instance.

JSM Server
Roadmap Portal is not available for Server version of JSM.

JSM Data Center
Data Center version of JSM is not compatible for using Roadmap Portal.
Pricing
Evals & Purchases Managed via Atlassian Marketplace
Roadmap
Help Us Build Roadmap Portal Further for Your Team
Docs
Thorough & useful knowledge base for you
Support
Reach out to us for lightning quick support