Most businesses have an easy time with their customer feedback strategy in the early stages of software development. But it becomes more difficult when there are more than a handful of features.
Without feedback loops in place, it's difficult to know what customers want and to ensure that they are satisfied with both the product and service (e.g. customer support).
Let's take a look at why customer feedback is so important and actionable strategies that you can use to build a feedback loop.
Customer feedback helps improve customer satisfaction and loyalty, as well as inform product and marketing decisions.
Click To Tweet
What is the customer feedback system?
Customer feedback is essential for modern software businesses. By collecting feedback, you can identify and make changes that enhance customer satisfaction and loyalty.
Survey responses highlight the benefits of customer loyalty that are well-known: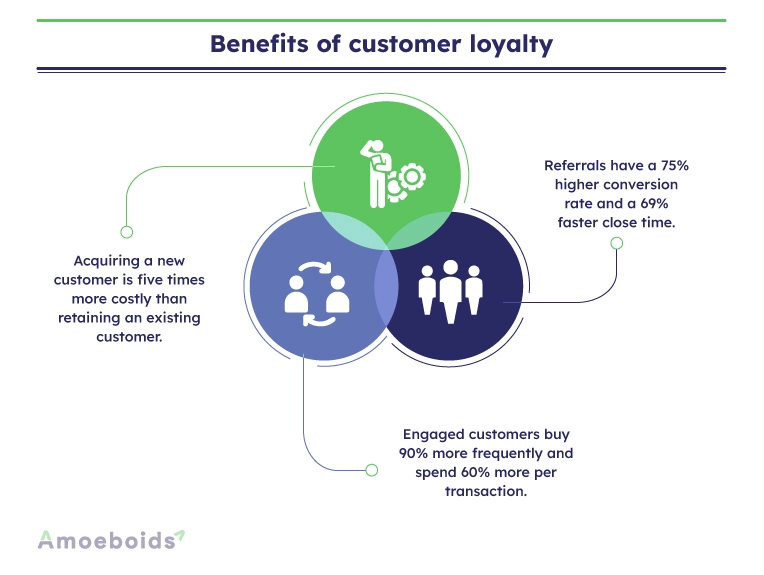 Acquiring a new customer is five times more costly than retaining an existing customer.
Referrals have a 75% higher conversion rate and a 69% faster close time.
Engaged customers buy 90% more frequently and spend 60% more per transaction.
In addition to enhancing loyalty, customer feedback powers data-driven product and marketing decisions. A large number of customers requesting the same feature could encourage organizations to prioritize the development of that feature, whereas a lot of positive feedback on a feature could make it an area of focus in marketing campaigns.
How do you Create a Feedback Loop?
There are many different ways to build a customer feedback loop, but most processes follow a familiar pattern that consists of four steps.
Amoeboids-Collect-Customer-Feedback

Gather customer feedback. Simple surveys are the most common way for product teams to ask for feedback at various points throughout the customer journey. Keeping an eye on response rates can suggest necessary changes.

Categorize the feedback. Customer feedback is typically categorized as product feedback, customer service feedback or marketing/sales feedback.

Act on the feedback. Customer feedback survey results should be shared with relevant team members during weekly meetings, via Slack or other workflow tools.

Follow up with customers. and close the feedback loop. Public feature request boards, customer feedback reports or a simple email thanking a customer for feedback is essential. Sometimes, to close the loop, satisfaction surveys can be shared too.
Why is the customer feedback loop important?
Feedback loops with customers might look at overall satisfaction with the product, potential problems with customer experience and support, or potential issues with the product. In each case, you may want to consider different tools that are best suited to gathering feedback of different types, as well as different ways to connect that feedback with the right staff.
What's an example of a positive feedback loop?
Best buy's example of using customer feedback to innovate and improve can give pointers on how to balance a positive and negative feedback loop. Through a research tool called VOCE (Voice of Consumers Through Employees), Best Buy collected customer feedback and complaints. The feedback was received from diffident platforms – in-store, social media, and online ratings. The results led to changes in their service model that included streamlining of mobile pickups, clear demarcation between Customer Service and Geek Squad and many more. These changes not only saved countless hours of time in employee hours for Best Buy, it had positive changes on the balance sheet too.
What are the 5 steps of a feedback loop?
Organizations that succeed tend to understand the needs of their customers better, and the majority of it depends on acquiring actionable data and then implementing changes according to the insights derived. Here are 5 tips that can help in developing an effective customer feedback loop.
1. Impact assessment
Establishing a clear timeline and capturing the supposed changes that can be brought from a feedback process, can show the importance of a feedback process. By preparing the ground for discussion, larger organizational changes can be brought forward instead of just departmental changes.
2. Life Cycle analysis
Defining the customer experience journey from the moment of interaction to the eventual sale and beyond, can determine the action of multiple teams. Capturing relevant data can redefine roles and enable better coordination between business units.
3. Keeping an eye on the measures
Balancing customer behaviour with desired outcome is also essential in feedback management. This helps in revisiting important features instead of just abandoning them.
4. Identifying objectives
Instead of asking questions that relate to the overall mood of the customer, knowing the latest features launched and asking questions about them can shed light on pain points that might not have surfaced yet.
5. Changing the goals
The process of receiving feedback is to evaluate the feasibility of efforts and finalizing the right direction to move forward. If the goals set at the beginning of the quarter do not match the direction the organization is moving in, changing goal posts to reflect this new shift shouldn't be difficult.
Customer Feedback Tools
There are many different tools that you can use to collect customer feedback and customer effort scores, ranging from net promoter score (NPS) surveys to Trello boards.
Net Promoter Score (NPS) Surveys
SurveyMonkey's Net Promoter Score Survey – Source: SurveyMonkey
The net promoter score, or NPS, measures the likelihood that a customer will recommend your product with a single question with a scale of 1-10. A score of 0-6 represents unhappy customers, 7-8 represents indifferent customers and 9-10 represents loyal customers who will continue to buy and refer others to your business.
The biggest benefit of using NPS is that it's an extremely simple metric that is widely known and standardized. Since there are hundreds of companies using the same metric across industries, you can easily benchmark your business against the competition to see how satisfied your customers are and find opportunities to improve.
Customer Satisfaction Scores (CSAT)
CSAT Example – Source: Boast
Customer satisfaction scores, or CSAT, measure how satisfied customers were following a specific interaction with your business. For example, a simple sad, indifferent and happy face may be presented following a support chat or knowledgebase article to assess how helpful it was to the customer along with a form for any additional comments.
Unlike net promoter score, CSAT is helpful for customer service and support to identify problem areas rather than assess how satisfied a customer is with the overall product. An unhelpful knowledge base article might be flagged, for example, for an update if it wasn't helpful, which can in turn help improve customer satisfaction for future readers.
Feature Request Boards
Roadmap portal for Jira service desk – Source: Amoeboids
Feature request boards are public-facing Trello-like boards that enable customers to suggest and vote on a feature backlog. In addition to eliminating the need to manage feature requests via email or other methods, these boards help customers feel like they have a say in future development and provide them with something to look forward to.
While Trello is the most common way to implement feature request boards, it isn't necessarily designed for the task and lacks some helpful features. We have recently released a Roadmap Portal for Jira Service Desk to make it easier to collect and prioritize feature requests with built-in voting capabilities and other features specifically designed for feature request boards.
Roadmap Portal is built on top of Jira Service Desk, which means that you can use JQL queries to populate the portal and JSD customer accounts to make it easy for customers to vote on features and influence the future direction of your product. Roadmap items are automatically and dynamically populated based on JQL query data.
The Bottom Line
Customer feedback is critical to the success of any software business. Without feedback loops in place, it's impossible to know what customers want and how they feel about your product or service. The good news is that there are several tools that make it easy to implement customer feedback loops to measure both product and support.