Customer feedback is fundamental to developing products that solve real world problems and build a successful business. The products teams develop are meant for customers, and their opinions and complaints can help refine the product and push it to add more value. As your products reach a larger audience, you can expect feedback to grow and include criticism, suggestions, and even focused feature requests.
With your customer support/service team interacting with customers regularly, a wide range of ideas and suggestions flow in, providing valuable data for constant improvements. Managing customer feedback is the art and science of collecting this information, sifting it, and converting it into actual product improvements and features.
Feature requests are invaluable as they help companies constantly improve a product and come from many sources, including support tickets. Feature requests are nothing but specific suggestions a customer makes to add a new feature that will improve the product. Converting customer support tickets into feature requests on your product roadmap can help many customers simultaneously and create effects more significant for the common good.
7 Support Ticket Tips in Product Roadmap
A customer support ticket is the interaction between a customer and your support/service executive. From live chat or messaging, email, social media, or a customer support portal on your website, customer tickets can come from many sources. A good support ticketing system is integral to any business and entails methods to manage and resolve customer issues and questions. Customer support tickets are more than just customer interaction tools and provide valuable insights that can turn into product features.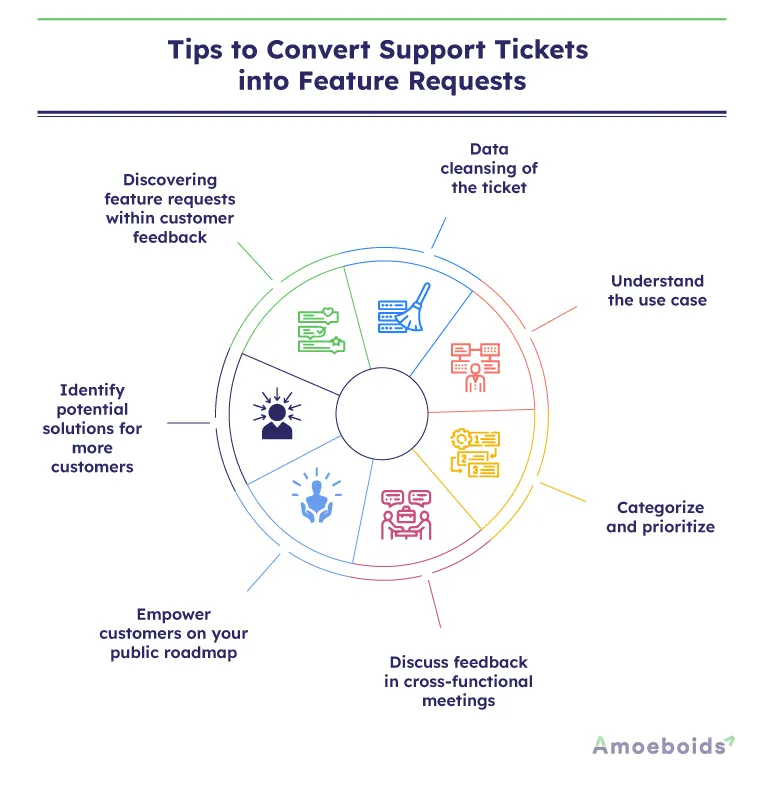 Considering the sheer volume of customer tickets that come in, it's a constant challenge to deal with them. Here are our top tips to avoid getting overloaded and turning customer tickets into feature requests.
1. Identify potential solutions for more customers
Focus on the critical message in the customer support ticket and assess if it can positively impact your product in the form of a relevant feature. What applies to one customer may find resonance with many others. Even a support ticket specific to a customer may request a particular feature; ask yourself if it can help a large set of customers or the product as a whole.
What's good for one is likely to be suitable for many, and discuss the suggestions made by the customer with your sales and development team to assess the idea's potential. A regular customer support ticket can end up adding a unique feature to your product and set it apart from the competition.
2. Discovering feature requests within customer feedback
You need to delve deeper and understand what about the product that is not sitting well with the customer. Users may not clearly articulate the issues they have with your product and may point out what the competition is doing. The communication with the customer can end up as a feature request that can help you resolve a persistent pain point.
There could also be a situation where the product has the right features and functionality, but the customer needs to learn how to use it. If that's the case, you can make simple changes to the onboarding, or essential in-app guidance can help many customers use the product more efficiently.
3. Data cleansing of the ticket
To apply the customer feedback to a bigger audience, you also need to clean up customer-specific information from the ticket. Make data cleansing a part of your quality control to ensure more accuracy in your product roadmap items. You can also rephrase the details so that the context is immediately apparent to other customers not involved in the support ticket. This regular exercise can help maintain product roadmap hygiene and reach customers with similar needs.
4. Understand the use case
Before considering whether to convert the user feedback into a feature request, ask why a user is suggesting the feature in the first place. Is there a use case for the same? Is the suggested feature addressing a more significant problem among your target audience or prompting more users to sign up for your product? Also, understand if the feature request embedded in the customer support ticket aligns with your product vision.
5. Categorize and prioritize
The next step is to categorize and prioritize customer feedback based on the suggestions' impact on users. Turn your attention to customer tickets likely to meet the product goals and encourage more users to opt for your product. Prioritize requests that will help you solve a problem several users are facing. Also, remember to align the customer feedback with the goals and initiatives in your roadmap.
6. Discuss feedback in cross-functional meetings
Organize regular cross-functional meetings to include sales, customer support, and product teams to discuss feedback from customer support tickets. Cross-functional discussions not only help the customer-facing teams improve the overall customer experience, but they also help decide the customer feedback that can be converted into feature requests. This is vital to keep the product development process in line with the customers' demands.
7. Empower customers on your public roadmap
Several companies use public roadmaps to involve customers and help them understand the direction your product is taking. It empowers customers by enabling them to vote on features and provides valuable context to customer interaction. Another advantage of a public roadmap is the elimination of duplicate feature requests. Besides, the forum encourages customers to send focused requests that are in sync with your product and organizational goals.
For the Greater Good
It's not without reason that the customer is regarded as king. Ultimately, all products are developed for customers, and their feedback is the cornerstone of enhancing and creating their best version. Customer support tickets are more than just interaction between your customer service team and the client. They give a peek into user behavior and their pain points and are vital sources of feature requests. Businesses must pay attention to customer feedback to survive in today's competitive environment.
Collecting and analyzing customer feedback can help you recognize new ways to add value to your product and appeal to a bigger audience. The good news is that the feedback received from customer support tickets can be converted into feature requests to make overall improvements to the product. Some minor tweaks and changes can convert large volumes of customer support tickets into valuable feature enhancements.