The roles and responsibilities of a product manager are manifold and cover a wide gamut of activities. From the product's genesis to its final execution and distribution, the product manager is integral to a product's complete life cycle.
Who is a Product Manager?
A product manager wears many hats and performs several roles simultaneously. They must understand the product well and its features so that it meets the customers' needs as well as the business goals of the organization. The main link connecting different stakeholders, the product manager creates synergies between all teams and devises strategies for the most optimum use of resources. According to Martin Eriksson, a veteran product leader and founder of ProductTank, the product manager is at the intersection of business, technology, and user experience and needs to balance all three needs.
Product Manager Vs. Product Owner
While a product manager and product owner are vital product management team members, their roles are unique. A product manager's role is to give definition and direction along with the right product vision, research, alignment, and prioritization. On the other hand, the product owner collaborates closely with the development team to execute the plans and goals defined by the product manager. Let's look more closely at how the two roles differ from each other:
| | |
| --- | --- |
| Product Manager | Product Owner |
| Focuses on concepts & ideas | Ensures implementation of these ideas |
| Defines the product vision | Collaborates with teams to execute the vision |
| Creates goals | Creates the roadmap to achieve the goals |
| Responsible for marketing & ROI | Streamlines work , prioritizes backlogs to optimize team output |
10 Key Responsibilities of a Product Manager
A product manager invests deeply in the product and every aspect of the product cycle. The primary role of such product managers is supporting and rallying behind the team to keep executing the product vision. However, their responsibilities are also defined by the size and scale of the organization. If the organization is large, a product manager collaborates with several specialists, such as researchers and marketers, who gather information, designers, and developers responsible for conceptualizing designs, testing prototypes, and finding bugs.
If the product manager works in a smaller setup, they will have their hands in many pies. Their responsibilities will be more hands-on than collaborative, with the onus of creating a great product. Whether the organization is big or small, what remains common is the product manager's ownership and knowledge of the product and the ability to make critical decisions.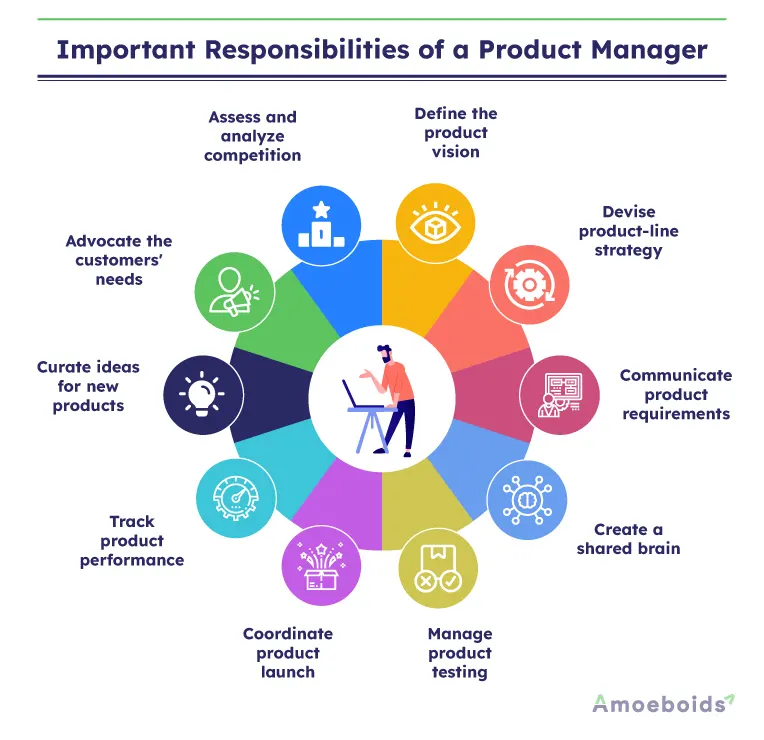 Let's take you through the 10 critical responsibilities of a product manager:
Curate ideas for new products: Gather product insights and market intelligence to curate viable ideas for new products and innovative features.
Advocate the customers' needs: Understand the product's market to articulate and prioritize the user's requirements.
Assess and analyze competition: Monitor and analyze market data to understand competition and unique products that meet the industry benchmarks.
Define the product vision: Create a unique product positioning and share it with the marketing team to chart the product's roadmap.
Devise product-line strategy: Define production schedules, and maintain and adjust them to meet timelines.
Communicate product requirements: Share customer needs with the engineering and support teams to create distinctive products or enhance existing features.
Create a shared brain: Align all stakeholders, including engineering, sales, marketing, and support, around the shared vision for the product.
Manage product testing: Collaborate with the technical team to review the product, detect and fix bugs and make necessary improvements. Run beta and pilot programs with samples and final products.
Coordinate product launch: Bring all teams together to launch the product successfully and on time.
Track product performance: Gather customer feedback to track the product's performance and make further improvements.
Skills and Deliverables of Product Manager
It's clear from the responsibilities listed above that the role of a product manager is complex and requires coordination and multitasking. Let's discuss the skills needed to become a successful product manager and their expected deliverables.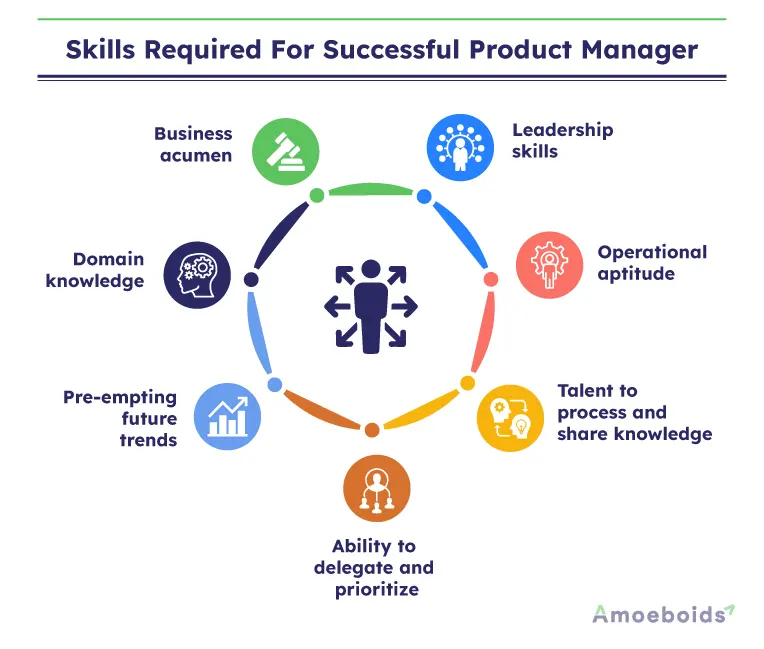 Domain knowledge:
An in-depth understanding of the market is essential for any product manager to succeed. According to a study, 76% of customers expect companies to understand their needs and expectations. To create a truly unique offering, a product manager must know the market, existing products, and the customers' preferences.
Business acumen:
It's often said that the product manager is the CEO of the product. You may agree or disagree with this claim, but a product manager must have the necessary skills to create profitable products.
Leadership skills:
Creating synergies between different teams is one of the primary roles of a product leader, and this is only possible with requisite leadership skills. A product manager must be prepared to troubleshoot and manage schedules and even egos to ensure efficiencies across different functions.
Operational aptitude:
Product managers must be prepared to get their hands dirty in the minutiae of operations. This means creating schedules, tracking output, and taking necessary steps to meet the end goal of launching a stellar product.
Talent to process and share knowledge:
A lot of technical and operational information will be presented to a product manager. How to process, retain, filter, and share this knowledge with specific teams is a skill that they must hone.
Ability to delegate and prioritize:
A product manager may be instrumental to the success of a product, but they can't walk the journey alone. Only a team empowered to make decisions can achieve the bigger goal. This also happens when the product manager allocates resources well and can make decisions based on the organization's priorities.
Pre-empting future trends:
Product managers must keenly observe upcoming market trends and customer preferences to improve products and output constantly. An innate understanding of the product will also help them modify it to stay ahead of the competition.
Deliverables of a Product Manager
Armed with the right skills and attitude, a product manager is responsible for some critical deliverables related to the product cycle. Let's talk briefly about some of these deliverables.
Business Case
The product manager is responsible for preparing the business case for new products and improving existing products. The external factors in a business case include understanding customers' needs and a thorough analysis of competition. When it comes to internal factors, a product manager must help with the cost of the product and assess the team's capabilities.
Market Requirements Document
A market requirements document defines and outlines the requirements and preferences of customers to create a customized plan to serve those needs. As a product manager, you are responsible for collecting all the available data, understanding the market's requirements or customers' problems, and formulating a suitable solution.
Product Roadmaps
As the leader of the product, other deliverables required from the product manager include the product's roadmap. This consists of the product features, goals, and the strategy needed to meet the product goals. The product manager must work on case studies, product comparisons, and competition analyses.
Product Manager Hierarchy
There are several growth opportunities if you have found your calling as a product manager. Creating successful products and upgrading your skill sets allows you to go places within your organization and beyond. Here's a look at the product management team and hierarchy with a small description for each role. This is a generic organizational structure, and the roles, titles, and responsibilities may vary according to the company's size.
Product Manager
Develops products based on research
Responsible for communication with all stakeholders
Balances business and technical needs
Tests and launches the products
Senior Product Manager
Mentors junior product managers
Oversees processes
Supervises multiple products
Product Leader
Resolves technical issues
Communicates with senior leadership of the organization
Principal Product Manager
Troubleshoots complex technical issues
Guides about changes
Responsible for post-launch monitoring
Group Product Manager
Manages different teams and builds synergies
Ensures optimization of resources and processes
Product Vice President
Leads the product management team
Strategises and plans long, short-term goals
It's evident that the product team of any organization, large or small, offers several opportunities for individuals to grow and evolve professionally and personally. Becoming a product manager is the first step of this incredible journey. You may not have a degree in computer science or design, but the possibilities are endless if you are passionate about creating products. With exemplary leadership, communication, and business skills, you can become a great product manager and much more.