They say it takes a village to raise a child, and in the same manner, it takes several team members to develop a successful product or service. Two such key members of the product development team are the product manager and the product owner. Their responsibilities do tend to overlap, which is why at times these terms are used interchangeably. Yet, their roles and goals are different, and so are their skills and aptitude.
The efforts of the product manager and the product owner are focused on building and improving products and creating value for customers and other stakeholders. Due to this shared responsibility, it's tough to distinguish between both positions. However, product managers are strategic and define the product's vision to keep it aligned with the company's objectives. It is also important for the product manager to measure the customer satisfaction using metrics like nps vs csat. They can leverage these best tools for product management to ease the process. On the other hand, product owners, mostly part of agile organizations, have a tactical approach focused on implementing the product manager's strategy. Hence, it's important to clearly demarcate the two positions and document their responsibilities to understand the nuances of their roles.
Who is a Product Manager?
Often referred to as 'mini-CEOs', product managers are product visionaries who define the product vision and develop the strategy to implement it. They are at the center of any product's management and development as they understand the customer's needs and prioritize what to build next. A product manager's role spans the entire product life cycle – from market research, consumer discovery to product delivery. A leader in the true sense, product manager also builds and aligns the team around a product roadmap.
A jack of many trades, the product manager is expected to simultaneously be a product visionary, strategic leader, and even a customer advocate. He also looks at some product roadmap examples to understand which type of roadmap best suits his needs. There are various metrics for product managers used to measure the success and impact of the product. Here's a closer look at the many roles performed by a product manager: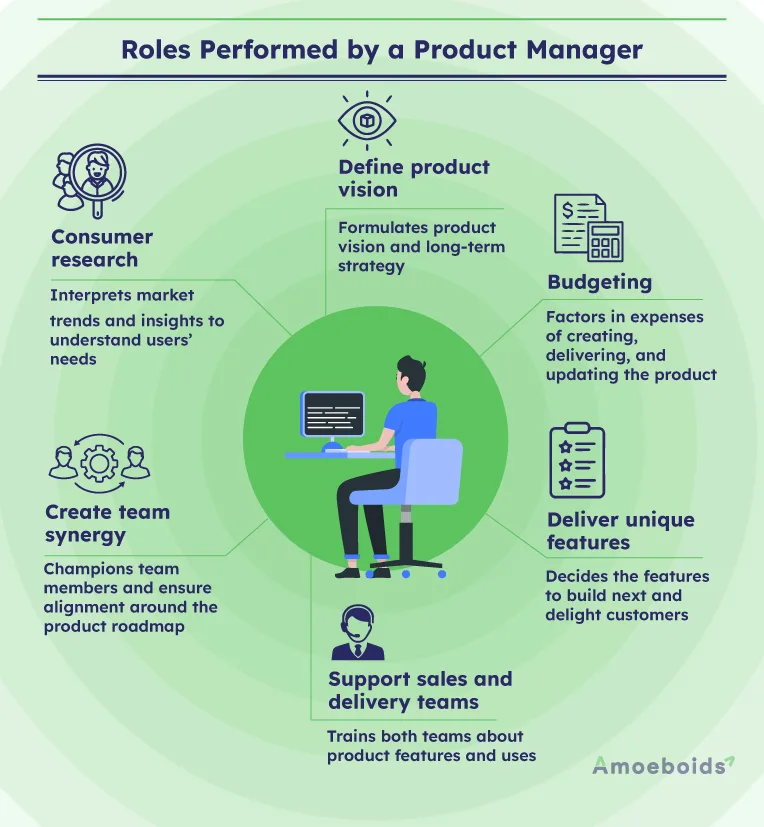 Consumer research: Interprets market trends and insights to understand users' needs
Define product vision: Formulates product vision and long-term strategy. Follow some product strategy examples to create the right framework.
Budgeting: Factors in expenses of creating, delivering, and updating the product
Deliver unique features: Decides the features to build next and delight customers
Support sales and delivery teams: Trains both teams about product features and uses
Create team synergy: Champions team members and ensures alignment around the product roadmap
Who is a Product Owner?
The role of a product owner is relatively recent and traces back to organizations adopting scrum and agile practices. That's why they are mainly part of setups that follow agile development. Nevertheless, the role of a product owner is crucial as they are responsible for managing the product backlog and thereby maximizing the product's value. A product owner also works closely with the development team to create user stories.
In that sense, a product owner voices the needs and opinions of the customer in the Scrum process. Here's a snapshot of the tactical responsibilities of a product owner:
Manage backlog: Creates production processes for the development team to clear the backlog.
Coordinate and align development: Attends scrum meetings to keep the team on course with the product roadmap.
Organize demos: Based on market analysis, creates demos for development and sales teams.
Participate in testing: Gets involved in product testing and iterations.
Create user stories: Develops user stories based on customer issues, prioritize these stories, and arrange them in the product backlog.
Provide feedback: Coordinates with the product manager on the product roadmap and gives feedback.
What is the difference between Product Manager and Product Owner?
The common link between product managers and owners is indeed the 'product' as they are instrumental to its development process. However, both perform unique functions in an agile organization and differ in several ways:
| | | |
| --- | --- | --- |
| Function | Product Manager | Product Owner |
| Role | Strategic role with focus on long-term vision | Tactical role with short to medium-term focus |
| Responsibilities | Defining product visionDiscovery of consumer insightsCreation of product roadmapPositioning productManaging budgetTeam alignment | Implementing product vision Grooming backlogOptimization of development processCreation of user storiesVoicing customers' needs to development team |
| Success benchmarks | NPS, CSATRevenueChurn | Completed storiesPerformance metrics for development team |
Can one person perform both functions?
A product manager and product owner can indeed be one person. With an overlap in responsibilities, one single person can perform both functions. Due to a lack of resources, a product owner may be expected to take up strategic responsibilities. The creation of a product owner's role also depends on the maturity and size of the organization and if it has adopted scrum and agile practices.
Multi-tasking may be a natural trait of several team leaders, but when it comes to these two roles, they are unique functions and two full-time jobs. While a product owner focuses on internal communication within the production team, the product manager also needs to handle external communication. Similarly, the product manager focuses on products to be developed while the product owner ensures the development team is aligned to build these products. Burdening one person with both these roles may not be beneficial for the long-term goals of an organization.
It takes two to tango!
It's clear from the roles and goals of product managers and product owners that they must work together to create good products. The product matters, and the product manager and owner join forces to ensure its development and smooth delivery. With a clear delineation of responsibilities and an understanding of the product vision, the two can be a formidable duo that can galvanize the whole team to deliver a blockbuster product to the target customer base.