Product managers are often regarded as mini CEOs and product visionaries and are at the core of a product's development and management. Even as they juggle many tasks at the same time, one of their core responsibilities is to create a product roadmap. It serves as a strategic and at times tactical document to plan and execute the product strategy and serves as a guide for the entire team. For a product manager to truly leverage a product roadmap, it's important to know their types, essential elements, and the process to build them.
Types of Product Roadmaps
The range of product roadmap types is wide and you may choose one depending on the audience you are catering to and the product vision and goal. The right knowledge of product roadmaps can also help you filter the information to include in your chosen version. Best tools for product management can be leveraged by product managers to streamline the process. Three types of product roadmaps are commonly used and each serves different purposes and suits different audiences:
Timeline-based: This product roadmap is ideal for internal business stakeholders or customers who want to keep track of your product's development.
Feature-based: For active participation from users, a feature-based Kanban-style product roadmap is apt. It allows users to share their feedback through votes & comments and follow the progress of a specific feature through 'subscription'.
Goal-based: The internal product & marketing team is the best audience for this kind of product roadmap as it focuses on solving customer problems or Jobs to be done.
Essential Elements of a Product Roadmap
The product roadmap spans the entire journey of a product and must include some integral elements. Let's look at what a product manager should consider while creating a product roadmap:
Product vision: The product is shaped and defined by its vision and it gives the audience a sense of what to expect from it.
Strategy: The product strategy is vital to realize the product vision and optimize the product team's efforts.
Requirements: It's important to know the special features that external stakeholders require from your product and your sales and customer service teams can share insights about these product requirements.
Product plan: The product manager must come up with a product plan that's true to the product vision and has scope for flexibility.
Markers: Meeting deadlines is crucial for the success of any plan and markers help everyone stick to their assigned timelines.
Metrics: To measure the success, your team must be familiar with the product metrics you will be tracking during its development.
An effective roadmap combines these essential elements while giving team members a chance to contribute to the process with their feedback and suggestions.
How to Build a Product Roadmap?
A product roadmap should give customers or stakeholders a glimpse of which way the product is headed while informing internal stakeholders about the status, release dates, and important milestones. Creating a roadmap is a multi-step process and following tips can help you create its best version: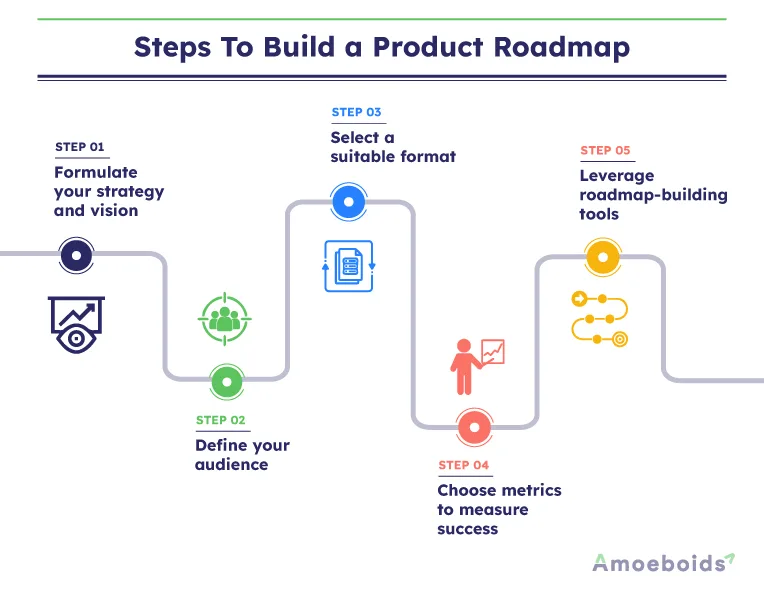 Step 1: Formulate your strategy and vision
Product managers must come up with a vision and strategy based on inputs from customers & internal stakeholders. They also need to define customer personas and keep a keen eye on the market and competition. This information is the input data that will be the starting point of creating the product roadmap.
Step 2: Define your audience
A product roadmap cannot be created with a cookie-cutter approach and it must be created for a specific audience. Defining your audience will impact which format you choose, the type of roadmap, and its contents.
Step 3: Select a suitable format
The format you choose will decide what information you will include in your roadmap. Depending on your chosen format, you can assign priority to certain themes or goals on your timeline.
Step 4: Choose metrics to measure success
Metrics such as customer conversion rate, retention rate, daily active users, NPS, CSAT, and customer lifetime value will help you assess your performance and measure progress and they can be chosen to suit customer or business needs.
Step 5: Leverage roadmap-building tools
A tool like Excel may not be ideal for a roadmap as it's time-consuming to build and tough to update. A better option is to opt for the latest cloud-based tools that accelerate the process and help you update the roadmap as and when needed.
Who Owns the Product Roadmap?
The product team includes many key members such as the product owner, engineers, and UX designers but it is the product manager who owns the product roadmap and it's his/her responsibility to build and share it with all stakeholders. The product roadmap is a vital tool in the hands of the product manager to manage the entire product lifecycle. It's also effectively used to increase collaboration between teams and create a consensus about the product's trajectory.
How are Product Roadmaps Reviewed?
Roadmaps are a work in progress and must be constantly reviewed and updated for the best results. Factors such as changing customer preferences, a shift in the competitive landscape, and new updates and features must be reflected in the product roadmap. It's the product manager's call to decide on the frequency of the review and updates. The idea is to maintain the product roadmap as an accurate source of truth.
If your stakeholders are calling you for updates instead of referring to your product roadmap, it's time to review and update it. However, reviews must be well-spaced and you shouldn't end up spending more time than required updating the roadmap. While it's an efficient tool to build great products, reviewing and updating the product roadmap cannot take precedence over execution.
How to Create a Product Roadmap for Everyone
Building a roadmap is all about balance and product managers must give due importance to business goals as well as product development. Even as many tools help you create customized versions, a product roadmap catering to everyone should have the following elements:
Clear Design: Use a simple design that's aesthetically pleasing yet easy to comprehend for all stakeholders. Ensure there's enough information but not an overload of facts that may put off users.
User Experience: Aim to create a roadmap that can be easily navigated and understood by customers.
Highlight Features: Your roadmap should provide a glimpse of important features to pique the interest of customers in the product and its future development.
Sustain Communication: Product roadmaps should initiate and sustain communication with users and other stakeholders by enabling feedback to build better products.
Importance of Customizing Your Product Roadmap
All versions of a product roadmap must include some prerequisites yet, customized versions can be created for different stakeholders. Product teams must consider several factors such as customer feedback and insights, market landscape and competition, and the company's goals. The content of your roadmap is primarily governed by its audience and the size and structure of your organization. You may need only one product roadmap for multiple teams involved in developing the same product. In some cases, you may require separate roadmaps for your development and marketing teams. Customer needs are addressed with an external roadmap that often covers multiple products. Even as you customize your roadmaps for different audiences, what should remain consistent is a straightforward format with visual appeal and the right amount of detail.
10 Product roadmap examples
There's no dearth of product roadmaps available for external stakeholders. We have curated 10 product roadmap examples to inspire product managers and help them in creating their own versions. We have also highlighted the key features for each of these roadmaps:
SocialBee is a popular social media scheduling software and helps businesses manage content across platforms such as Facebook, Instagram, Twitter and Pinterest. It taps into Trello for creating its public roadmap to update and inform its community.
This product roadmap also uses Trello as its base and features simple statuses. It stands out for its simplicity and easy-to-read Kanban view and includes details such as features and release dates. The comments sections allow users to ask questions and create feature requests and these inputs provide valuable action items and feature suggestions to product managers.
ClickUp has an easy to navigate and visual roadmap and includes features up for release over the next few weeks. The simple language aids easy understanding of the product but it stops short of conveying the value of the features. ClickUp also gives users an indication of how long it will take for each feature to get completed and released.
Slack has a simple and straightforward roadmap with a clear and user-friendly layout. The details provided are quite exhaustive though the technical language could be tough to comprehend for users. The lack of time frames could also create issues for customers.
Australian FinTech product Up Banking, has developed a product roadmap called 'The Tree of Up.' The highlight of this roadmap is its interactivity that gives product managers a chance to interact with different sections and grasp relevant release notes, and more. This interactive technology tree works is apt for B2B clients as well as end customers.
GitHub's public roadmap is popular primarily because of its easy to understand and concise interface. It provides users information about new features of the code repository, asks for feedback, while highlighting the expected modifications in its products. It provides users a transparent outline of what to expect every quarter. Even as some descriptions are technical, the filter functionality ensures relevant information is presented to users.
Airtable's public product roadmap combines practical application with ease of understanding. It clearly conveys future plans along with the time when new features can be seen. This helps customers assess the utility of the tool vis-à-vis their needs. What's unique about Airtable is that it uses its own product to host this product roadmap.
Atlassian presents information in a manner that's easy to understand for users. Information is organized in several categories such as administration, user management, analytics, work management etc. These categories are broken down to specific product areas to help users visualize the plan for each product.
Combine makes efficient use of Trello for its public roadmap and invites feedback and comments from an active community. Though it lacks the ability to garner user votes on features and users should watch out for certain drawbacks inherent in a Trello roadmap. Nevertheless, it gives you a chance to create an efficient roadmap by organizing data related to features into different columns.
Microsoft's detailed public roadmap clearly lists all features, when they will be released and the quantum of pending work. Further, it highlights important features and gives information to clients about consumer and business-focused attributes. The public roadmap keeps its users informed without any additional effort.
Importance of choosing the Right Roadmap
The right product roadmap helps you create a strategic plan for your product and chart its journey across major releases along with sharing information about its benefits and goals. Public product roadmaps are also an effective communication tool to reach out to the customer base and create excitement about your product.
Ultimately, a good product roadmap conveys to everyone where the product is headed and its uses and benefits. It's vital that product managers avoid creating roadmaps that only focus on new features and delivery dates and instead remain centered on goals and major issues. A product roadmap has benefits for all – the development team, the company and users and helps you create transparency and confidence while nurturing loyalty by publicly sharing your progress.