Vision is the guiding light that directs the course of teams in an organization.
A product vision describes what the product aims to do in lofty terms: It is the overarching long-term product goal. Vision statements communicate what the product hopes to achieve and guide the product teams about the ultimate objective. They stress the necessity of the product and what it hopes to accomplish in the future.
A company vision goes a step ahead & talks about the raison d'etre of the organization. It eventually does influence the product vision of various teams in that organization.
We have already talked about the company vision statement here. In this article, we will focus on the product vision.
What should a good product vision have?
A good product vision is customer focused, be it end customers (B2C) or businesses (B2B). It outlines a clear state of the product meant to be achieved – like 'To provide access to the world's information in one click.' Setting a big and bold goal that answers the 'why' sets the stage for something lofty for every employee at all levels to achieve
12 Company & Product Vision Statement Examples
Vision statement: Make communications frictionless and secure
Zoom's product vision statement example is built around features like smoother communication. From streamlining meetings and replacing the need to take notes or minutes – Zoom's vision guides its employees to simplify how people interact and excel at their roles.
Highlight: The main aim is to cut distractions so that people can express their ideas more effectively and clearly.
Vision statement: Create economic opportunity for every member of the global workforce.
LinkedIn focuses on business and employment, and its product vision is "to create economic opportunity for every member of the global workforce." The line is future-forward and appeals to employees' emotions by enabling users to establish and develop their professional life – through networking opportunities, skill development options, opportunity-related features, or knowledge sharing.
Highlight: Since Covid-19, LinkedIn has facilitated several opportunities spanning the world. This shows they are on the right track to achieve the goal they have set with their vision.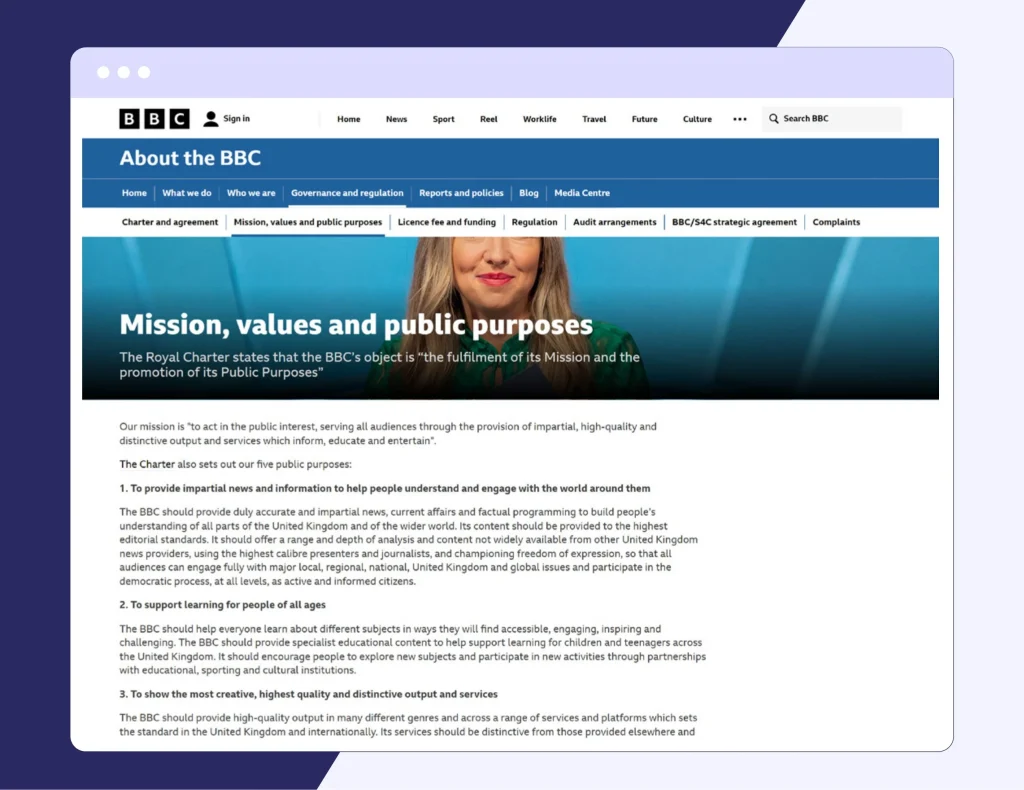 Mission statement: To act in the public interest, serving all audiences by providing impartial, high-quality, and distinctive output and services which inform, educate and entertain.
BBC's vision aims for innovation within the Organization to serve its viewers or customers. Its mission highlights the importance of unique content and helps its employees create content that focuses on people. They aim to provide information to their viewers in an easily accessible way without the impact of silos that hamper work.
Highlight: BBC's vision talks about positively impacting people's lives by bringing a human touch to an area where facts rule the roost.
Note: It is important to note that BBC is not necessarily offering a product but a service. The vision/mission statement thus is more at the company level.
Vision statement: Accelerating the World's Transition to Sustainable Energy.
Tesla aims to alter how the world moves – and pushes for a world powered by solar energy, running on batteries, and transported by electric vehicles. Its vision is all about providing efficiency without having to change customer behaviors.
Highlight: Tesla talks about harnessing renewable energy to renew our relationship with the environment, and its actions fully support its vision.
Note: It is interesting to note here that Tesla's vision does not talk about any specific product. But that is definitely the driving force behind all the products the company has launched so far.
Vision statement: organize the world's information and make it universally accessible and useful.
Google's corporate mission and vision statements have four variables – information, organization, accessibility, and usefulness of data. Teams can easily derive their goals from this detailed yet simple vision: World's information is handled by the crawling aspect of the search engine, Organization is about creating the best algorithms that bring out the most relevant information, and personalization through analysis of extensive databases ensures usefulness.
Highlight: By effectively following its mission statement, google delivers value to its major stakeholder group – end.
Vision Statement: To be Earth's most customer-centric company; to build a place where people can find and discover anything they want to buy online.
Amazon's version falls under examples of product vision that are grand yet achievable. They want to be Earth's most customer-centric company – Their vision helps their employees to focus on all aspects of the customer journey, from discovery to delivery (and beyond). Teams can interpret advantages in different ways and enable services that customers need – like the lowest possible prices, informing them of newer selections, ironing out the checkout process, and others.
Highlight: Amazon's principles guide employees to focus on customer needs over everything else and gives them leeway to handle issues to a certain level of autonomy for better results.
Note: This is again more of a company vision rather than a product one. But this vision does play a major part in what Amazon adds to its product portfolio & services.
Vision statement: We believe that we are on the face of the Earth to make great products, and that's not changing. We aim to make the best products on Earth and leave the world better than we found.
Apple's vision statement starts as a declaration: "We believe that we are on the face of the earth to make great products, and that's not changing." The Organization has always strived to make simplicity part of the product description. They look for ways to make technology products elegant, sleek, and easy to use. They derive their core value from their mission statement. They strive to be the frontrunner by constantly creating better solutions for existing customer problems: their solutions to privacy, diversity, and accessibility almost always have the end customer benefit in mind.
Highlight: Apple's vision statement can be seen in its work – the efforts of multiple teams gel in seamlessly to create products that set the standard for the foreseeable future.
Note: While the individual products from Apple can have tactical vision statements at their own level, it is eventually the company vision that dictates the direction.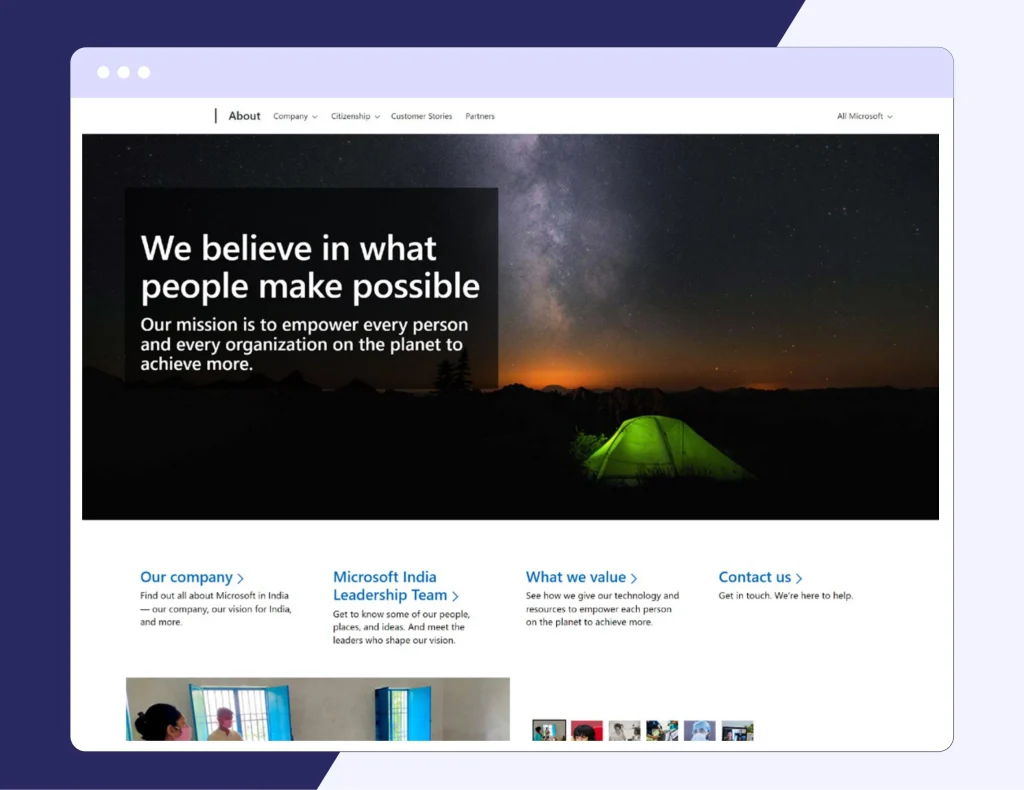 Vision statement: To empower every person and every Organization on the planet to achieve more.
Microsoft aims to help people and businesses worldwide realize their full potential. The efforts of Microsoft employees make it easy for everyday users to get the technology that used to be available only to big corporations. Microsoft's products have always reflected the company's vision statement through affordable, trustworthy, accessible, and easy-to-understand technology.
Highlight: Some principles Microsoft considers when making internal decisions are diversity, inclusion, innovation, and social responsibility.
Vision statement: We want to entertain the world. Whatever your taste, and no matter where you live, we give you access to best-in-class TV series, documentaries, feature films, and mobile games. Our members control what they want to watch, when they want it, in a straightforward subscription.
With a vision statement like 'Becoming the best global entertainment distribution service,' Netflix has reinvented how people experience movies. From maintaining and renting out physical copies of movies, the company grew into the online sphere with its streaming subscription services, domestically and globally. By simplifying distribution, Netflix continuously improves the customer experience while expanding its streaming content.
Highlight: Constantly enhancing user interfaces and extending streaming services to devices that were not TV or PC – has helped the company stay true to its vision.
Vision statement: Using our unlimited passion for technology, content, and services to deliver groundbreaking new excitement and entertainment, as only Sony can.
Sony's vision statement focuses on a passion for technology that aims to make a difference for customers by providing them with the best products and services. It aims to be a company that inspires and fulfills curiosity using Kando, a concept that represents the emotional connectivity of everyone involved in the Organization.
Highlight: Using a unique aspect in the vision statement emphasizes the roots of the Organization while bonding employees and processes toward growth.
Vision statement: We ignite opportunity by setting the world in motion.
Uber's vision belongs in the halls of agile product vision examples, as it is about igniting opportunities by setting the world in motion. The app has made grabbing a cab in the middle of the night a straightforward, affordable affair. By aiming to create transportation that is as reliable as running water, everywhere for everyone, Uber also creates a viable income stream for drivers. Every decision points toward a better customer experience and goes a long way toward creating brand loyalty.
Highlight: The customer-centric nature of Uber's vision statement covers drivers too, and the features introduced give both parties to understand and improve their rating.
Vision statement: People use meta platforms to stay connected with friends and family, discover what's happening worldwide, and share and express what's important to them.
Meta's vision is to help its customers apply technology to stay connected in an increasingly digitized world. It aims to simplify communication and use unique technology to make societies better. The Organization keeps its culture diverse and alive by embracing experts from varied backgrounds.
Highlight: Meta believes in letting humans express themselves, and it appears in the vision statement where the focus is on individuals sharing and expressing what is important to them.
Having a company or a product vision at the outset is essential. And going by the above examples, this vision needs to resonate with employees. Leaders can involve the employees of their Organization to create ideas and company, product vision samples, which can then be distilled into a concrete way forward.
Conclusion
Vision statements act as the structure that organizations can grow into, with the added advantage of changing needs. Values and principles guide organizations to develop compelling company & product visions and keep different teams working together towards a shared success story. A product vision statement can help teams to articulate their high-level goals from the point of view of the product's future. By aligning various groups and departments across teams, product vision statements give a true north to refer to, which can help employees find meaning in their work – while finding ways to improve upon them.