In product management parlance, a "product" is the most crucial function in an organization, which can mean either products, service offerings, or both. Managing this "product" becomes vital because other organizational tasks—like marketing, sales, or even finance—wouldn't exist in the first place if the product didn't.
What is product management?
Product management guides the steps in a product's lifecycle, from conception to development to positioning and pricing. In product management, the focus is on the product and its customers. Often, a product manager who advocates for customer needs and ensures a connection with market trends ends up succeeding with the products they lead. This focus on customer needs primes product teams to routinely ship better-designed products that perform exceptionally well. Having someone to look at how the product is developing and suggest changes based on factual findings can help prevent effects from getting uprooted by newer solutions. The art of managing customers allows product managers to create tailored solutions for them.
The need for product management
Product management is relatively new in the club of established professions, but it isn't a role that suddenly emerged out of thin air. The duties of a product manager were usually handled by other team members, whose primary job would be something else. This ad-hoc way of life can be seen in lean start-ups, where few founders and early-stage employees wear many hats to save funds until they hit paydirt.
But as customer expectations changed, the roles and responsibilities of people taking care of product management activities increased until it was viable to have a dedicated employee to oversee the product and help the team improve it in the best possible manner.
A good product manager makes the rest of the organization understand the product's value. By understanding customer pain points, a product manager can improve the product, which increases customer loyalty. They also act as conduits between different departments to determine what is necessary to create a successful outcome. There are various metrics for product managers that are used to measure the success and impact of the product.
Product management is vital for six reasons
In the current SaaS landscape, where self-service and transactional sales models are favored, switching costs tend to be lower, and differentiation between service providers becomes difficult. In such cases, product managers gain importance because they ensure all teams and tasks are working as intended (apart from coming up with product ideas and shortlisting features for the future and a million other things). Here are some factors that highlight product management's importance.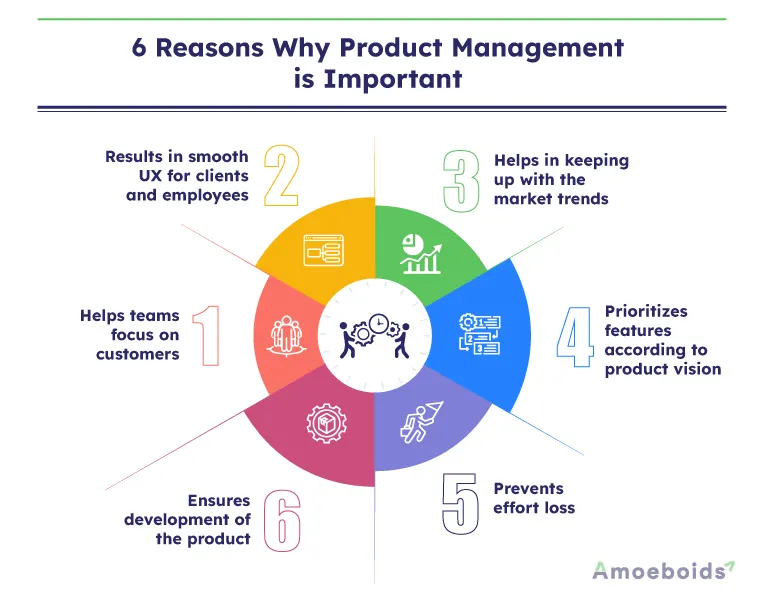 Product management helps teams focus on customers
Building healthy customer relationships early on is key to success in any business. Still, in software solution providers catering to other software organizations, the importance increases multi-fold. The organizations that focus on their customers' pain points and actively try to solve them are the ones that endure – and product managers play a huge role in making that happen. They create product roadmaps and share them with stakeholders, where they publish product features they're working on, ideas that might see the light in the future, features implemented, and other relevant details. They also constantly collect customer feedback and feature requests and analyze them to better understand the client's immediate and upcoming needs.
Product management results in a smooth UX for clients and employees
Regarding user experience, B2C (business to consumer) organizations are miles ahead of B2B SaaS operators. The amount of personalization that one can do in consumer goods is unprecedented. The clients of SaaS companies are used to such seamless modes of operation as consumers themselves, and they expect their solution provider to match that level of sophistication. A product manager who understands this pushes for experience refinements that simplify the lives of customers, especially the digital natives who expect to use software and products at work in the same way they use apps like Uber, WhatsApp, Facebook, etc.
Understanding this is important for all organizations, but for small start-ups, it can be the difference between thriving and barely surviving. Using tools like Roadmap portal and Screenjar can help them improve their customer experience multifold without spending much. These apps integrate seamlessly with Jira and use the ticketing format to create valuable lists — allowing teams to focus on resolving issues and developing features instead of sifting through a mountain of customer feedback. Product managers can introduce them to the team and help them plan their day better.
Product management helps in keeping up with market trends
Customers' needs are changing rapidly, and the pace is also picking up in B2B sectors. Product management principles require teams (and product managers) to interact with existing customers regularly and analyze feedback. This can lead to issues getting fixed sooner and new features getting adopted before the rest of the market wises up.
Product management prioritizes features according to product vision
Unlike in the physical goods world, products are constantly changing in the world of technology. An app or a solution is viable only when it stays up with the latest trends, and this means teams have to innovate and solve customers' problems even before they become one. The eagerness to innovate can lead product development team members to prioritize features wrongly, not based on product vision – which can alienate the product from its purpose over time. Product managers are focused on the customers' industry and the developments and can adequately guide the teams on the direction the next update cycle takes.
Product management prevents effort loss
One of the essential duties of product managers is to create and maintain a product roadmap, which is then reviewed regularly (usually weekly). The product owner takes the updates made up for further execution. This constant check-in with the product's upcoming updates with the vision ensures that the efforts of product developers are not wasted in solving issues that may not matter to customers.
Product management ensures the development of the product
The product development team is responsible for the software, but the product is much more than that. Product management encompasses everything from ensuring the correctness and understandability of documentation to creating different versions of release notes for different target audiences. Along with product marketing, communication can be crafted uniquely and appealingly.
What are the critical aspects of product management?
Product management roles differ from traditional ones like marketing, sales, development, etc., because they encompass a bit of everything with a technical bend to it – a product manager is usually involved in the planning, designing, positioning strategies, and many other processes related to the product. Product management is essential for the organization's survival not only because of the inherent dependency of the organization on the product to thrive but also because of how product management allows the product's vision to permeate through the organization, contributing to its culture. Product roadmaps can pave the way for a better understanding of products and company vision. Here are some product roadmap examples which a product manager can leverage to figure out which one will work best for you. If taken care of, some essential aspects of product management can boost product organizations to create successful, world-class products.
Churning out ideas
Ideas are where a product begins life – first as a concept, then as and when data supports its existence – as reality. Product managers are responsible for this stage, where they gather ideas from various stakeholders, colleagues, feature requests, suggestion lists, and more. They list promising ideas, thoroughly analyze the pros and cons, and decide what direction to pursue in consensus with their team.
Finalizing the product/features
The ideation phase reveals a lot of options, but only a few would fit well with the product vision. At the end of the finalization process, product managers and team members should clearly understand what is being built, why it is being made, what it is supposed to achieve, and how to measure if the product goal or vision is achieved. These few ideas the product manager has shortlisted are then run through another level of scrutiny so that the product team can better understand the product's impact.
Planning milestones
After finalizing the product and features, it's time to start building. Not yet. The product strategy and steps to meet the vision are yet to be defined. This section, commonly known as creating the product roadmap, is necessary to communicate business goals, areas of focus, prioritization of features, scope, and more. These roadmaps aren't rigid – they allow enough leeway for the product and feature list to evolve and morph according to the organization's needs and the market's demands. With the product owner, product managers ensure the execution is happening at the right pace. The frequency of check-ins also allows the product owner and manager to step in if product development team members are experiencing issues. These strategic communication documents can be public or private and enable all stakeholders to know how product success can be achieved.
Prioritizing products and features
This can be considered a sub-step in creating a product roadmap. Still, because of the granularity with which some product strategies must be established, product managers must first develop a clear picture. Then they can guide the product development team on what should be built first. After cross-checking the feedback, suggestions, and market trends, prioritization can answer questions like "what feature/component should be built, when it should be built, and what value it can generate for the customer," among others.
Developing the product
Once the 'what's' are determined, product managers closely work with different teams to validate if the agreed-upon features are being implemented according to product strategy. Following some product strategy examples can help you set correct framework. They ensure product ops are on track by checking with the product owner. The quality of the solutions is also limited, as product managers interact with multiple teams to get the design mock-ups, technical specifications, feedback, and others in perfect working order.
Delivery of the product
Once the development is over, where it plays a supporting role, the project management process becomes focused on the product or feature delivery. Product managers must constantly communicate with product marketing, engineering, testing, and other teams to ensure the final product is built according to specifications. They also lead in generating release notes, deciding on communication channels and messaging, arranging training sessions for clients if need be, and more. Product managers can follow product launch best practices for go-to-market success.
Gathering customer feedback
Feedback data is essential for usage analytics, but it is listed as a separate step because of the intricacies of gathering genuine feedback. Product managers can use multiple tools and data avenues to gather input, but the traditional survey method and tracking issue redressals are two main methods. With tools like Roadmap Portal and Screenjar, collecting feedback becomes smooth and helps teams better understand issues. Product marketing team members can help craft compelling messages that urge customers to provide feedback. NPS vs CSAT surveys are both valuable tools for collecting customer feedback. Leverage them to understand friction points and winning experiences.
Analyzing product usage
By understanding how customers use the product, product managers can identify different ways in which it can be made better. Once the product is in use, managers shift their focus to determining its effectiveness through business analytics. Data is tracked continuously, and results are compared with the values in the product roadmap to identify if it meets the vision and if any customer expectations are not being met. These changes are then fed through the discovery phase, and the product life cycle continues.
Conclusion
Product management has been and will be an integral part of the development process—just because the duties of a product manager were distributed among multiple teams before doesn't mean it shouldn't exist now. A competent product manager can improve the synergy of the teams they work with and inspire the group to create something great. It starts with an idea (or a bunch of them) and then brings them to life because their existence is necessary to solve a particular issue. Creating or enhancing a solution requires careful planning, and product lifecycle management provides an abstract framework to achieve it.