A series of initiatives and a product launch outline the best marketing strategy and messaging to ensure that customers appreciate and adopt the product. Creating a good product is only the first step of the journey; the product launch plan often decides the product's fate in the market.
What is a product launch plan?
The culmination of months and sometimes years of planning and execution, a product launch is a grand finale of presenting a product in the market and sharing it with customers. Would you believe us if we told you that less than 20% of products click with customers, and almost 83% of customers expect cutting-edge and innovative product development? These facts and figures are reasons enough for product managers and their teams to meticulously plan a product launch and adopt best practices.
Importance of a product launch plan
A product launch can be compared to the release of a blockbuster film when the product is finally shared with the customers and the market at large. Dynamic and exciting events and product launches are crucial elements of the product management cycle. They are led and owned by marketers, yet they require a high degree of collaboration and coordination with different teams. With multiple stakeholders involved, there is also an element of risk and failure. Hence an efficient and intelligent launch plan is imperative to the product launch success.
What should a product launch plan include?
An impactful product launch plan comprises several initiatives, from creating the most effective messaging to selecting the most enabling assets for your sales team. The product launch cycle can be broadly divided into three phases: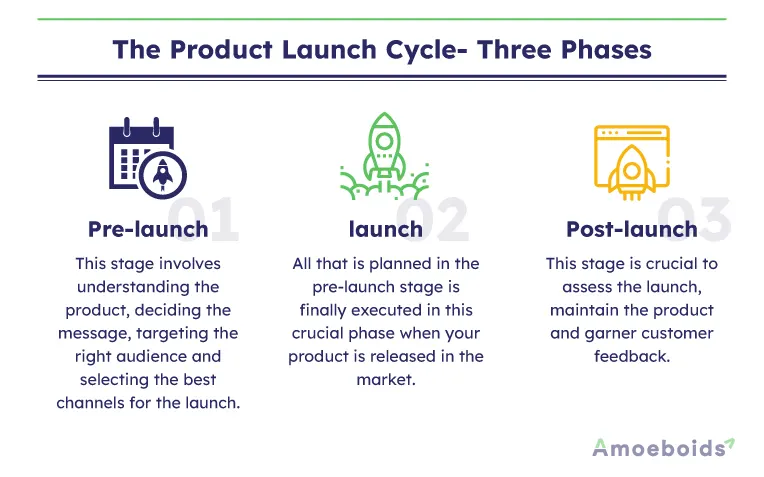 Pre-launch:
This stage involves formulating the product vision, deciding the message, targeting the right audience, and selecting the best channels for the launch.
Launch:
All planned in the pre-launch stage is finally executed in this crucial phase when your product is released in the market.
Post-launch:
The product launch cycle doesn't end with the launch, and this stage is crucial to assess the launch, maintain the product, and garner customer feedback.
12 best practices for a successful product launch
After understanding the importance of a product launch and its different phases, let's now focus on the best practices that should be adopted for a successful product launch:
1. Select the right audience
First and foremost, you must identify and target the right audience for your product to get the best results. The product is based on an audience's needs and developed for a selected set of consumers. This practice is adopted and led by the product manager with the right product insights and understanding of the customer's needs.
However, before planning the product's launch, the product team must have answers to questions such as:
What are the customer preferences and expectations?
What are some of the existing strategies in this product category?
Are you creating a unique product to make a niche in this space?
2. Strategically position the product
After identifying and defining the target audience, the next step is to create the correct product narrative with a simple yet effective messaging. The product positioning or messaging must place your product in a suitable space. Based on customer feedback and data collected from the target market, you must create a simple message highlighting the product's unique aspects and creating the right image in the customers' minds. It's important to remember that you will have only a few minutes of your target audience's time at the launch time. Hence the messaging or positioning must be simple and credible and convey what makes your product unique.
3. Seek endorsements from the customer base
One way to fine-tune your positioning is to get your product development team to communicate with your prospective customer base. Their endorsements and feedback will help you in three ways. Firstly, you will better understand your target audience and their expectations. Secondly, their feedback will help refine your product, and lastly, you will know if your message is impactful. Customer testimonials also greatly support your product pitch and lend credibility to your value proposition.
4. Huddle your core team
It takes the efforts of several individuals to create a good product, and selecting the right team is essential to a successful product launch. The run-up to the event is fraught with pressure and stress, and when the stakes are high, it's necessary to put together a team that works well together. At all stages, ensure that communication is clear and collaboration is consistent across teams and roles. Whether your organization is large or small, keep the core team involved with the product launch small. Coordination and communication within a minor group are likely smoother, and you can strategically expand the team closer to the launch.
5. Agile Release Planning
A perfect product launch's underlying feature is detailed and agile planning. Release planning plays a significant role in creating the right launch strategy. While attention to detail is essential, it's just as crucial to creating an agile and nimble plan. An Agile release plan can be the foundation of your product roadmap and help you achieve your launch goals. You can also look at some product roadmap examples to understand which type of roadmap best suits your needs. Here are the key steps of an agile release plan:
Create a launch roadmap
Define the launch vision
Distribute and delegate responsibilities
Identify issues and glitches
Refine communication strategy
6. Run a beta test
After all the planning, thinking, and discussions in the pre-launch stage, get ready to run a beta test. Beta testers are vital to understanding how your product will be received and used. You must run a beta test for your product before it's launched for these reasons:
To gauge the users' reaction to the development and its features
To understand the nuances of product usage
To find issues and glitches with the product and its usage
7. Test and tweak your messaging
It's not enough to test the product; you must also see if the messaging you have created resonates with the target audience. Go ahead and share it with your existing and prospective customers and colleagues. Seek their frank and unfiltered opinion before sharing them with the senior management. Find out if the communication is evident or if the message is getting lost or misconstrued. Based on this feedback, you can tweak the positioning or tagline to hit the product launch bullseye.
8. Line up creative assets
With the launch within kissing distance, this is the time to develop your most bankable launch assets and feedback tools. They aim to convert interested customers into buyers, and you must tactically create a conversion strategy. Ask yourself how you will hook them. Will it be an email that brings potential customers to your website? At this stage, you must finalize the content for assets such as videos, emails, forms, and landing pages that will drive customers to the final conversion point.
9. Select the best marketing channels
Once your creative assets are in place, the next step is to choose the proper marketing channels and make the product announcement. Find ways to garner customer support through their feedback and comments. The tracks you can consider for product launches include events, PR, print, and digital marketing. Tap into the reach and popularity of social media channels such as Facebook, Instagram, LinkedIn, etc., to create a buzz before the product's launch. Select the channel that matches your audiences' preferences to get maximum traction.
10. Give finishing touches to your execution
Get set for the big day of launch, where all your planning will finally be implemented. You can create a countdown to the launch day and chalk out the roles and responsibilities of team members. Get all your logistics in place and do a simulation or rehearsal of the launch to avoid any last-minute surprises. Ensure your sales and marketing teams are trained to handle all customer queries and bookings. Even as you check on the final details of the launch event, create anticipation around the launch with announcements on social media, emails, and press releases. Another way to generate buzz about your product launch is to invite influencers to review your product.
11. Get set for the launch day
The big day you and your team have been anticipating for months is finally here. If you plan an event around your product launch, get your sales infrastructure to facilitate customer interactions and bookings. Make sure you pass on the leads you get from your marketing initiatives to the sales team for immediate conversions. Even if your launch event is not mounted on a big scale, you can still make a noise about your product. You can host an online event such as a webinar or live on Facebook or Instagram. Another option is to hold a live demonstration for the press and customers in your office. Remember that your product launch must have a personal connection with your target audience.
12. Post-launch follow up
Even as the curtains come down on a successful product launch event, many loose ends must be tied up. Several tentative customers could need additional information to make a decision. Make sure you follow up with them and offer them a free trial or demo. You can sustain the buzz around your launch event with emails and social media posts thanking customers and the press. Keep a set of new assets ready in the form of longer videos and product-specific webinars to keep customer interest alive. Make sure your sales team is equipped to handle follow-up queries and receive customer feedback.
Paving the way for better products
A successful product launch gives the right impetus to your product and also helps you to reinforce your brand and its values. It's also an excellent time to learn from mistakes that may have been made and ensure that all the learning from the product launch helps you create better products and launches in the future.