Setting up processes for delightful customer support is tough. While it can happen once in a while, making it a habit is difficult. Of course, the customer support team needs to be trained. Not only around products/services they support but also on different communication styles.
But, how do you know what communication style would work and what wouldn't?
Background
We develop professional apps for Atlassian products – such as Jira, Confluence. For quite some time now, we have been providing support through Jira Service Desk. It helps to keep the processes efficient, since it has tight integration with Jira.
We have rave reviews about how our support is quick & helpful. There is a strong reason, why we got those reviews. Of course, time to first response is always important. But more than that, empathy in that response counts. We cannot stress enough on the need to empathise for a customer support exec.
But, how do you actually empathise with your customer?
The Process – Before
When we received a ticket on our service desk, there were a few steps that we followed religiously. They are outlined below –
Figure out tone of the ticket description. Is it inquisitive, irritated, angry, happy and so on.
Pro-tip : This would inform us what kind of emotion should we convey in our response.
What are the demographic & professional details of the reporter?

Location, age, gender as well as position, job description in their current job.
Inevitably, these details would be available from social networks such as Facebook & Linkedin.
Pro-tip: Based on these details, we would know if a technical or non-technical answer is more appropriate.
What more do we know about the reporter's company?

Google & Linkedin search for the reporters domain name would reveal some of this data.
What is its industry vertical? Location/s? What is the company size in terms of number of employees as well as revenue.
Pro-tip: Whether our product is befitting for the industry vertical and for the company size, can be deduced from the above information. This is handy when providing a support response.
Thus, we relied on a few disparate sources to collect this information. Sometimes we got all the details we wanted, sometimes we didn't. And this definitely reduced efficiency of our support agents.
The Process – After
Now the aim was to increase efficiency of agents without compromising on customer support. This is when the idea of an app that enriches customer data in Jira Service Desk came up.
Now, with enriched profiles for Jira service desk agents have the details handy available. There is no need to collect & process data from the web, social networks.
Reporter profile
This tiny JSD app, enriches reporter profile based on their email address. It surfaces following information
Name
Profile pic
Linkedin profile
Location
Title
Role
Timezone (along with current time)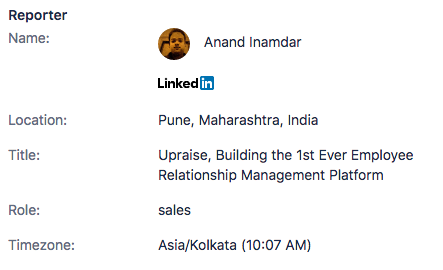 Org profile
Based on reporter's domain, following data about the organisation is shown
Name
Linkedin profile
About
Founding year
Location
Number of employees (range)
Estimated annual revenue (range)
Next steps
Want to delight your customers with impeccable support? Already using Jira service desk? Check out our app on Atlassian marketplace.