Technically Changelogs & Release notes are different. However, in popular culture both the terms are used interchangeably majority of the time. In that sense this article, is an extension to the 50 release notes examples.
Changelogs are integral to the journey of any product as they document the product changes in chronological order. By definition, changelog is a repository of all the modifications given software product has gone through over a period of time. One key benefit that comes from maintaining a changelog is that it is instrumental in establishing transparency in customer interactions and educates the customers about product updates and enhancements.
Why do you need a Changelog?
In the modern world of cloud computing & SaaS, buying a software product is not a one-time activity. A piece of software that is not kept up to date with frequent releases, becomes legacy in the blink of an eye. Thus, agility is a virtue that product managers should highlight, if not boast. Customers will always prefer a product that is constantly getting updates over the one that is slow moving.
Secondly, maintaining the changelog guarantees you always have an easily accessible point of reference even for internal stakeholders.
Who needs a changelog?
Any company that values customer opinion and feedback and wants to build a stellar product needs a changelog. Making a product's history through a changelog will encourage your team to create a better product and own the improvements and updates. Customers feel engaged and appreciated when their concerns are addressed through improvements and documented in the changelog. You need a changelog also if you are looking at developing a solid team spirit and boosting their morale.
Most common changelog template
To start your changelog journey, here is a very basic template. This content template is easy to use and fits almost every company's needs. Just copy the template and update the text/paragraphs below different sections. 
1. Introduction
This is an optional part of your changelog document. Brief introduction of what is included int this release is more than sufficient here. If your release frequency is high, it is quite ok to skip the introduction bit & jump right into the actual product updates.
2. What's New
This section focuses on highlighting any new stuff that was added to your software product. Depending on your brand guidelines, design language & target audience – include necessary details with visual aids such as GIFs, videos & screenshots. The key is to choose a direct title that introduces the new feature and keeps the content crisp and informative. Another tip is to include a link to an appropriate help desk article and prompt users to take action.
3. Bug fixes 
Every time you fix a bug and improve the performance of your product, let the stakeholders know about it. With the help of your changelog, please state the problem, how you solved it, and the benefit of the bug fix to the customer.
4. Improvements
Users attach immense value to product enhancements and would like to know more about them. Changelogs provide the right platform to update users about product improvements. Use this section to connect with your customers and update them about improvements included.
5. Integrations
In the world of SaaS, users benefit significantly from integrations. Use your changelog to announce not just the technical integrations but also the brand partnerships. Inform the target audience as to how such integrations & partnerships will help their workflow and create a better user experience.
The sections to include in your changelog document eventually depend on multiple factors but the above content template should definitely give you a headstart.
Let's now look at some complete changelogs and understand how they add value for their target audience.
Top 8 useful changelog examples
Intercom is known for its concise and crisp interface, its changelog follows the same philosophy. With the help of images, tags, and other features, it provides updates that catch the user's attention. An excellent example of this is the 'What's New' page on the site's main page, which instantly provides all the latest updates and changes made to the product.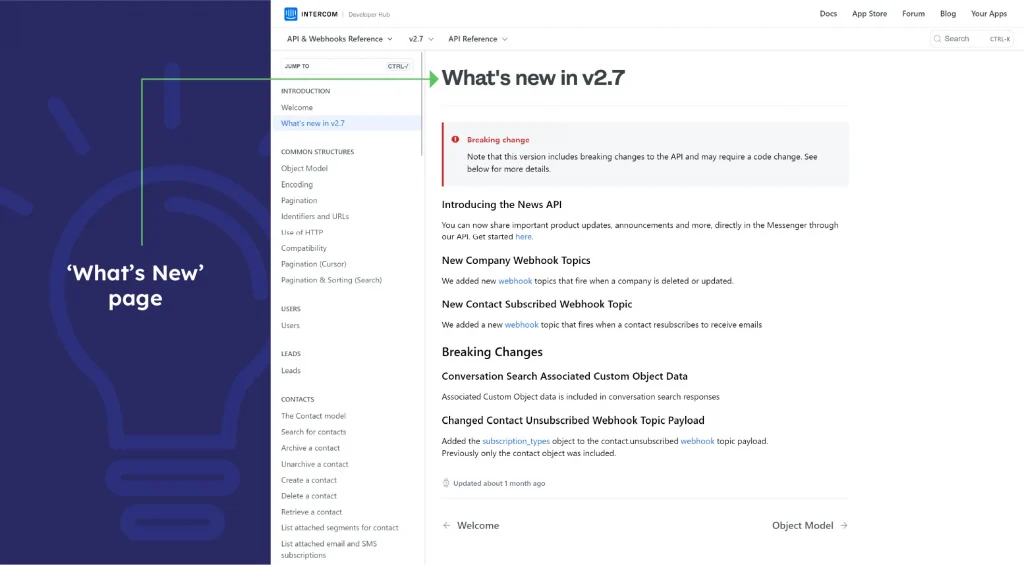 If you are looking for only specific updates for a product, Hubspot helps you access them through its unique navigation box. It segregates the information into "Featured Updates" and "All Updates" headings. This feature saves time and trouble and takes customers to specific updates instead of going through all the updates.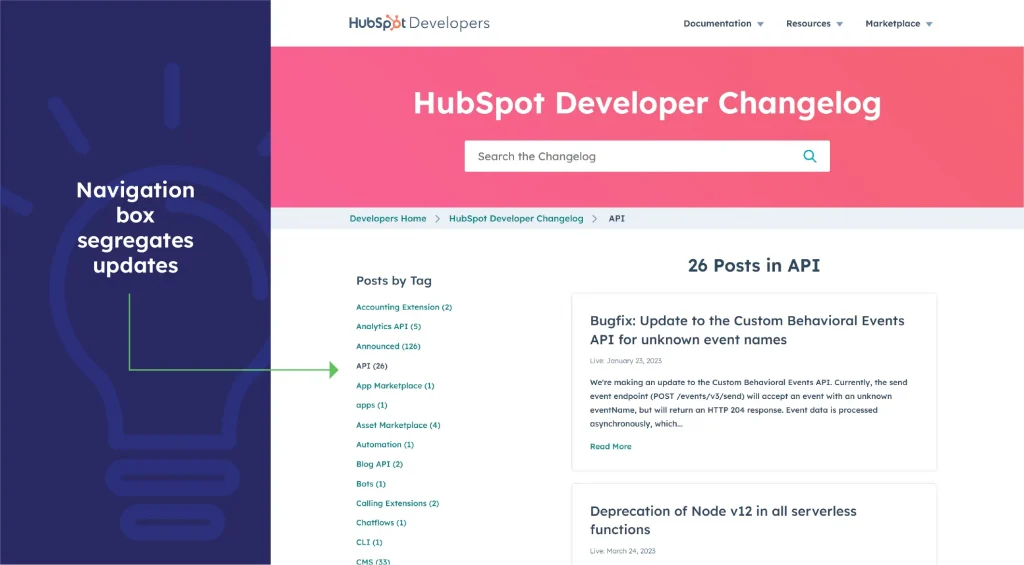 Besides its user-friendly interface via website widget or the customer portal, UserVitals has a unique feature that sets it apart from other changelogs. This feature lets customers view how their feedback has been incorporated into product updates. It helps close the feedback loop by linking feedback stories to the changelogs.
The release notes of UiPath have a table of contents which is particularly useful for user navigation. With well-organized release note entries, users can easily access relevant information without searching by date.
The chronological changelogs used by Amplitude help users track the weekly changes and updates. Their short and succinct weekly updates are significant in explaining updates and are preferred over more extensive entries and updates.
If users want to check the date-wise journey of a product, Feefo's release notes come in handy. All the changes are cataloged in monthly sections, where all the updates are chronologically listed.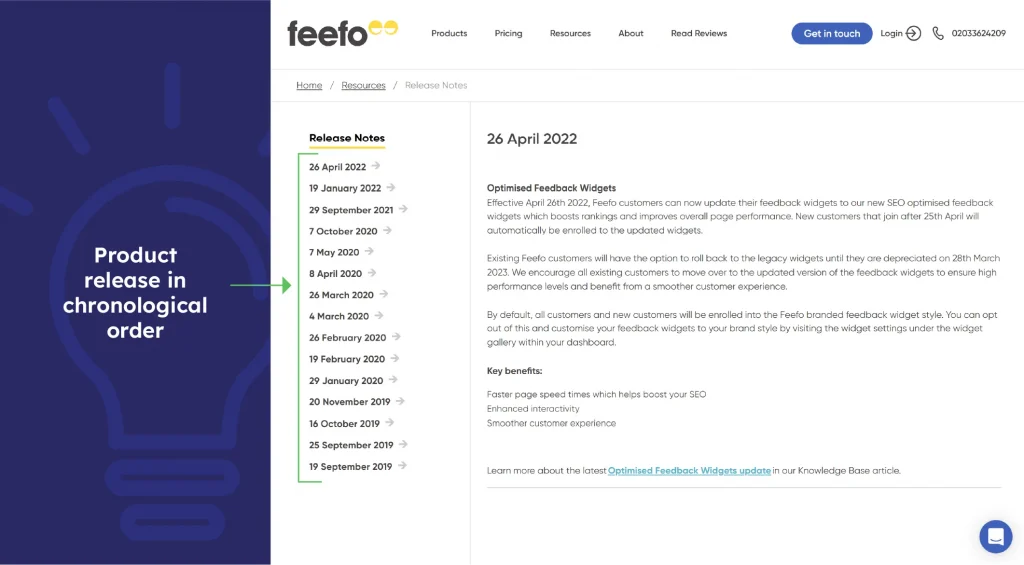 Gorgias' changelog is clean and simplistic, with limited use of graphics and other visual elements. This format helps draw the customer's attention to what's important and allows them to understand key features and their relevance.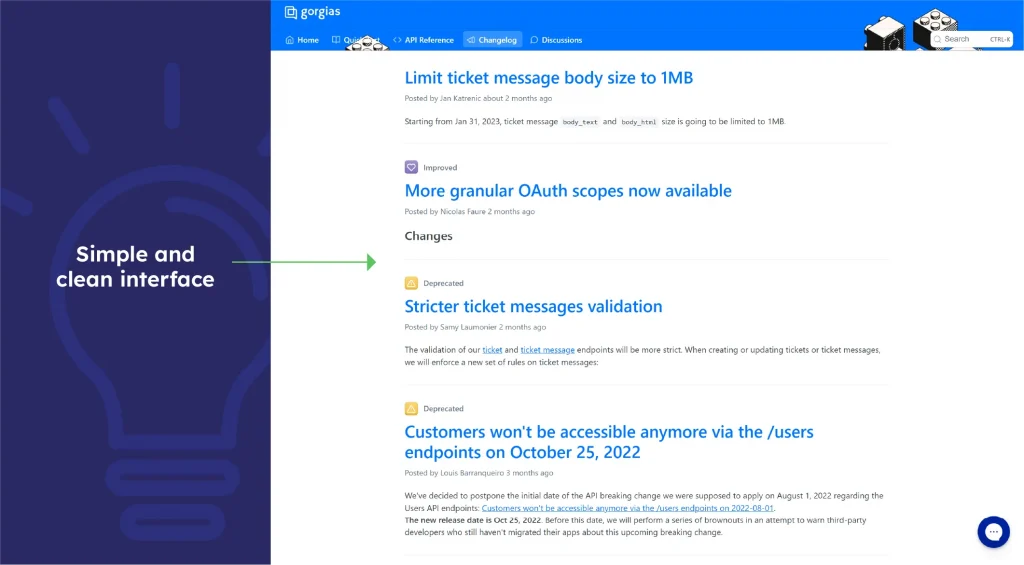 Chargify's changelog interface has an efficient system that categorizes information systematically, aiding navigation. The in-app release announcement system provides brief updates while the 'What's New' section is embedded on the login page.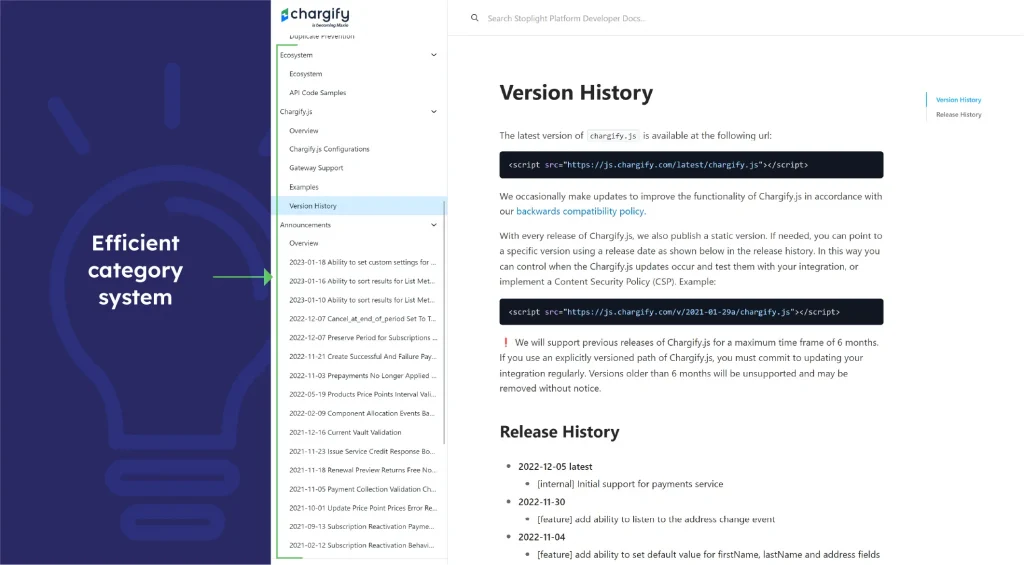 Communicate with panache
Communication is the key to staying relevant in a developing and evolving industry. By documenting changes and updates, changelogs help you reach consumers and establish contact regularly. Not just necessary for customer interaction, changelogs are essential to keep your development team motivated. They provide the history of the product and egg your team members to work diligently towards improving the product. With these useful changelog examples, you can see how even the most minor features can help customers and your team build better products.