Companies that are better at customer support, are also the ones leading the customer retention chart. They don't just have great customer support team members – they also enable these high performers with tools that enhance their productivity. In an era where 95% of customers share bad experiences, a single negative review can result in a current and potential customer loss.
Choosing a great customer support tool
There isn't any one size fits all type of rule when it comes to improving customer support, as every business and every customer will have their own support needs. Having said that, there are a few broad rules that can be laid out.
Usability of the tool is the first question that managers or leaders must ask. After careful deliberation with teams expecting to be impacted, certain ground rules can be drawn. For example, if the tool is a standalone one and requires extra efforts on the part of employees to learn its use – it can be assumed that the tool will not find any takers. Questions like is this tool easy to set up, is it intuitive to use etc. can help in trimming the shortlist. Tools that ask customers to install and perform certain steps will follow the same route.
Effectiveness of the tool is another factor that needs to be considered. By understanding the problems that need to be addressed, teams can make a good decision to select the software that provides the exact options.
Added value provided by the tool, like quick one-click screen record sharing for customers, helps support teams resolve issues faster. With every extra minute saved in solving customers' issues, the chances of customer delight go up.
Some unconventional tools to change your customer support game
While tools like live chats, screen sharing apps, and others are used extensively by those providing customer support, their work can be simplified with few out-of-the-box tools too. These tools simplify data sharing about issues, collect better information and feedback, and a lot more.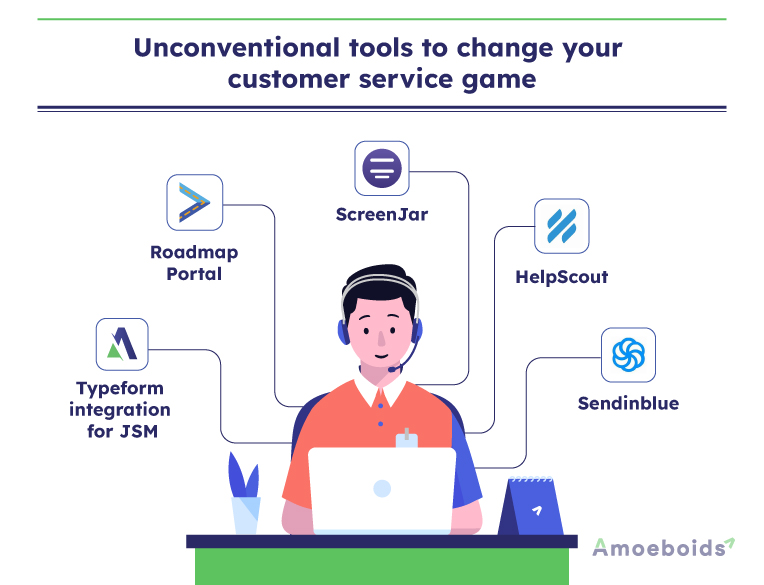 Typeform integration for JSM
Typeform is a conversational form builder. Its integration with Jira service management (Typeform integration for JSM) saves the support team's time by guiding users to relevant resources before they create support tickets. It reduces time-consuming back and forth by guiding users to provide relevant details at the time of ticket creation, engages users by personalizing ticket creation forms based on different attributes, maps Typeform questions with JSM request fields. It can also create a new customer or map the support ticket to an existing customer. The real game changer is its ability to personalise the ticket creation forms with hidden fields such as name, email and other attributes. External facing customer support forms for feature requests and bug reports can also be created, in addition to specialized forms like candidate facing recruitment forms for various open positions, and internal employee help desk forms for record updates and HR requests. Support teams can provide Typeform as an embed, pop-up or chat widget to their customers, while making the JSM ticket creation experience delightful and personalized with hidden fields. That means you can ask only those questions from your customers that move the conversation forward.
Roadmap Portal
Roadmap portal for JSM allows for simplified customer feedback management, which organizes customer & internal feedback in a centralized place, within the Jira service project. It also collects comments & votes on feature requests, helping teams plan their future releases better.
The efficient roadmap management process can be managed from the Jira service project, where roadmap cards can be connected to Jira software issues & the entire process of roadmap management can be automated. The feature of making the roadmap boards public or private is powered by the flexibility of JQLs, and these roadmaps can be published on a sub-domain that merges seamlessly with the organization's brand.
Powered by Jira Service Management, Roadmap portal is completely secure – as the app uses customer accounts on JSM. It also allows for automation of roadmap management, and can be used to create an ideas management/portal, or a customer voting & feedback framework.
Screenjar
Screenjar helps support teams skip the back-and-forth, by allowing customers to share screen recordings in just one click – without needing any download/installation. Support team members can generate unique links for customers to create & upload screen recording videos, which get attached to Jira tickets. The app is meant to help customer-obsessed teams delight their customers with a ridiculously easy way to record screens & share the video for a quick resolution.
The process is simple, where support team members generate a video request link with the Chrome extension, Screenjar dashboard, or a Jira ticket. Customers can click the link to record their screens (and audio too, as an option) in their own time without downloading or installing anything. These screen recordings get directly attached to Jira issues & JSM tickets – without any installation, user management, or hassles.
Once the recording is uploaded, support team members get notified by email and they can watch the video directly. Other teams, if necessary, can be included in the discussions and brought up to speed by sharing the screen recording. By providing a better experience to customers, where they can record their issues rather than try to explain it by text, Support team members can make their life easier, and cut down on the back-and-forth.
HelpScout
Helpscout enables a shared team inbox that lets the whole team manage emails through a single address. With this, customers can continue to discuss the issues with multiple support people, who can get the gist of the matter easily, thanks to the same trail of mail. It also allows for automation through workflows, customer tagging, and a saved replies library that is easily searchable.
Sendinblue
Sendinblue is one of the best live chat support tools available for customer support. The contextual nature of the tool allows it to be used for both first-time web visitors and existing customers. A live chat system improves customer interaction, across industries and customer segments – but the one equipped with AI can function as a chatbot that can resolve first-level queries and free up vital time on the customer support team's schedule. The simplicity of the app makes adoption easy too.
Conclusion
With proper tools, managers can help their teams spend less time understanding customer issues and get right into the solving part as soon as possible. Team members can focus on actual issues that require their attention and thinking capacity, instead of searching for documentation or customer files and details. The extra time can also help the team to make headway on the feature requests list, opening more avenues to delight customers regularly.